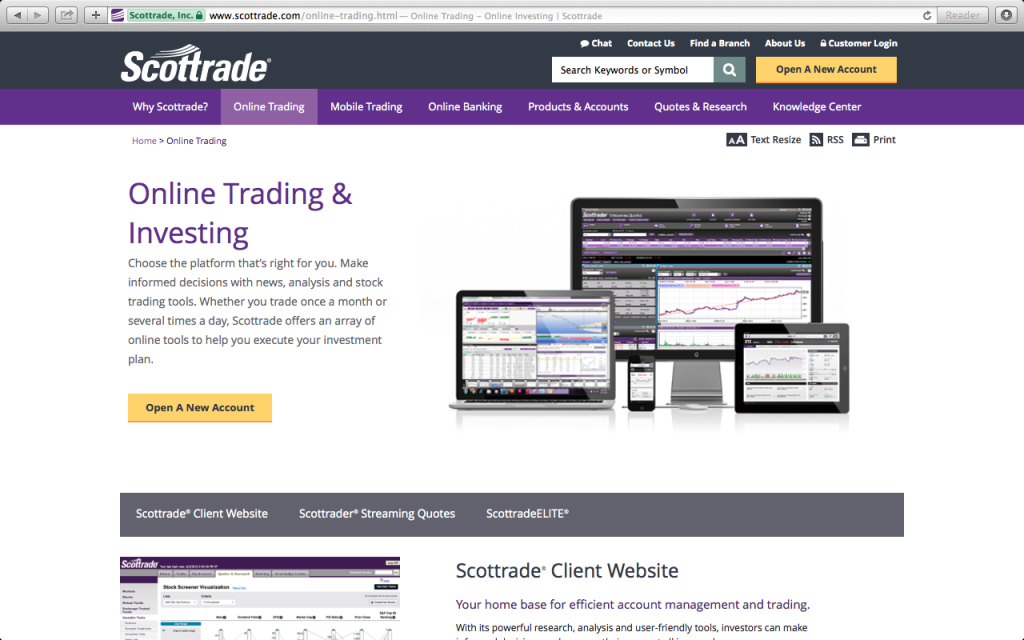 Now that you have a basic understanding of what the market is and how it works, I'll show you how to invest your money and buy your first investment!
To start investing you need an account that allows you to buy/sell different types of investment instruments. Just like putting money in a savings account, you can put money in an investment account that holds your money. The money you put in your investment account can then be used to purchase stocks, bonds, mutual funds, etc. You can open an investment account online through an online brokerage firm.
How to Invest with an Online Brokerage Firm
There are many different brokerage firms to choose from when deciding to open an investment account.  Some of the major online brokerage firms include:
I personally use Scottrade as my online broker because of their low fees ($7 a trade).  Most online brokerage firms offer helpful tool to screen stocks and set alerts if your portfolio changes.  They also offer helpful advice on how to invest money and help with using your investment account.
Now What? 
So you set up your online investment account, now how do you use it?
It's not as hard as it may seem.  First, you must deposit money in your account so you can purchase stocks, bonds, mutual funds, ETF's, etc.
The easiest way to do this is by connecting your checking account with your investment account.  This can be done by going to your online brokerage firm investment account (This example is for a Scottrade account but is similar with other firms too) and selecting My Account/deposit/Make deposit – electronic transfer.
Since its your first time making a deposit in your account you will have to add your bank account that will transfer funds to your investment account.  Have your account number and routing number ready when adding a new checking account.  You'll also need to verify your checking account – your brokerage firm will make two small deposits in your checking account. When the deposits show up in your checking account you need to type the amounts they sent you in the appropriate spots.
Once your checking account is setup with your investment account, you'll be able to easily deposit funds from your bank account to your investment account with just a few clicks (My Account/Deposits/Make a Deposit – Electronic Transfer/ Make an ACH Deposit). Your checking account will now show up in the drop down menu on the Make an ACH Deposit tab and you'll be able to easily transfer money from your checking account to your investment account.
How to Buy/Sell Using Your Investment Account
Two basic transactions you will make with your investment account are to BUY and SELL different types of securities. After logging on to your online brokerage account go to the Trade tab.  You'll see a Stock Order Entry form that you will need to fill out.  Here are simple steps to fill out the form:
Are you buying or selling a security?  Simple select BUY or SELL
How many shares are you buying/selling?  The price of the stock multiplied by the amount of shares you buy will estimate your cost. Shares x Cost per Share = Total Investment
Enter the symbol for the stock. This consist of a few letters that is specific to the company stock your investing in.  If you don't know the symbol for the company use the find symbol tool located next to the symbol box
Order Type refers to how you are going to place your order. The most basic order type is a market order, which means you buy/sell at the current market price. The other order types are more advanced but still easy to learn.
Duration refers to the length of time before your open order is canceled because it couldn't be filled.  When investing in large companies your order will most likely get filled instantly; if you invest in a smaller company with low volume for trading your order may not be executed right away because not as many people are buying the stock
After reviewing your order you can submit it – You just bought your first stock!!  The process is similar when purchasing bonds, ETF's, and mutual funds – but make sure you know what you're investing in before you invest your money.  By researching and learning how to invest money you will be able to identify what's the best for your situation.  Learn how to Invest Money Right!